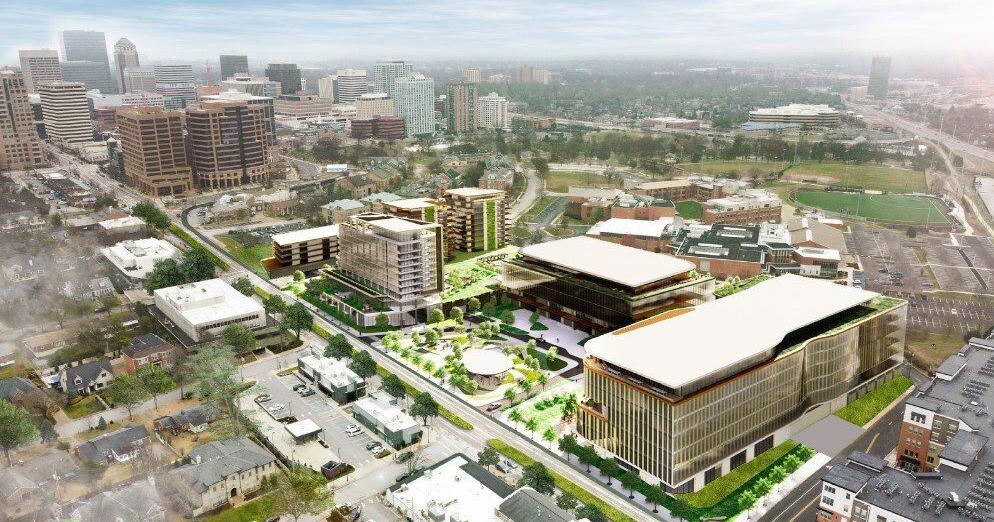 Buyer moves forward with $500 million plan for Caleres headquarters in Clayton | Local company
CLAYTON – Real estate development company CRG is buying the headquarters of global footwear company Caleres and aims to turn it into a $500 million development, complete with condos, townhouses, a boutique hotel and offices for the shoe company.
CRG and Caleres have hired a consultant to seek local and state tax breaks and Clayton officials appear to support the move, hoping to retain one of their biggest employers.
"We think it will be great to keep (Caleres) in our business community," Mayor Michelle Harris said. "The new development will bring a lot of vitality to the area."
The project will include additional office tenants as well as a luxury Life Time fitness center, said Jeff Tegethoff, operating partner at CRG, the local development arm of design-build firm Clayco.
"It's about keeping Caleres in St. Louis County and the town of Clayton," Tegethoff said. "To do that, we want to make sure we create an unparalleled experience that's more than just an office building."
Caleres, formerly known as Brown Shoe Co., put its 9-acre campus on Maryland Avenue and Topton Way up for sale last year. He said then that strong demand for real estate in Clayton and favorable office property prices for tenants prompted him to consider a sale. The company had struggled financially during the coronavirus pandemic, laying off or laying off nearly 400 local employees.
But since then, Caleres has posted record profits and seemingly put those struggles behind her.
The company, which has roots in the area since the 1870s, is one of Clayton's biggest employers, with 588 workers, according to the town's latest financial report.
"Subject to the results of state and local incentive efforts and ongoing lease negotiations, a portion of the proposed office space would house our new headquarters – keeping our associates and global headquarters in Clayton," said Caleres senior Ken Hannah. vice president and chief financial officer, said in a statement.
CRG is considering asking the City of Clayton for special tax areas, such as the Transportation Development and Community Improvement Areas, as well as sales tax relief on building materials. Caleres, meanwhile, is seeking incentives from Missouri Works, which offers tax credits to states in exchange for new jobs being created, said Doug Rasmussen, president of St. Louis-based consulting firm Steadfast City, which advises CRG and Caleres on the project.
Clayton's board of aldermen is expected to vote Tuesday on a contract with Gilmore Bell, a well-known public finance law firm, for the firm to advise the city on incentives. CRG would foot the $25,000 bill, Rasmussen said.
Mayor Harris said the city is reviewing incentives on a case-by-case basis. She said she could not comment on the specifics of the contract with Gilmore Bell, but described the arrangement as very common practice and said she had confidence in the law firm.
Rasmussen said CRG and Caleres will spend the next few months on zoning and incentives, with construction potentially starting this summer. The first phase of the project could open at the end of 2024.
Clayco is expected to build the project and its architecture firm, Lamar Johnson Collaborative, to design it.
Tripp Hardin, Mike Hanrahan and Matt Stephens of commercial real estate firm Cushman and Wakefield represent Caleres in its deal with CRG. Sansone Group represents Life Time.