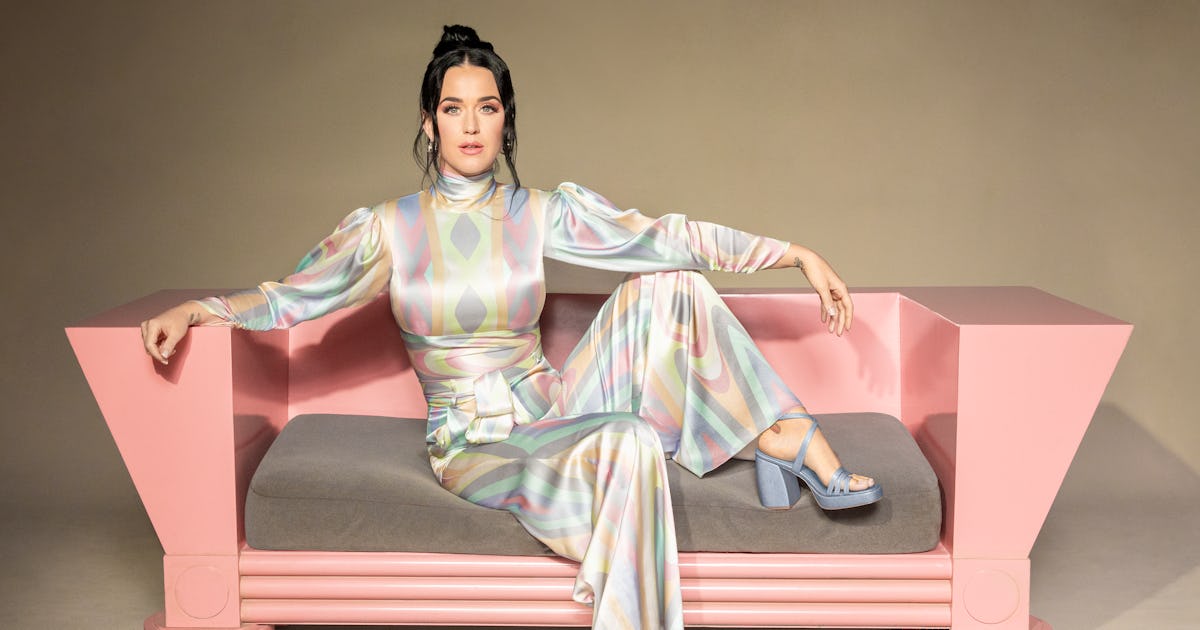 Katy Perry on her shoe line, vintage shopping and daughter Daisy
Maybe it's because we spoke around 6 p.m. on a Friday, but Katy Perry starts our call about her shoe line, Katy Perry Collections, on a surprising note. As proud as she is of her latest collection and her new 100% ownership of the company, what's really on her mind is the weekend she's planned to spend "doing a little decompression with her fiancé, Orlando Bloom. He's about to return from a trip to Moldova's Ukrainian border with UNICEF, and Perry is eager to share statistics on Europe's biggest refugee crisis since World War II. Speak The United Nations, for example, almost every second a child has been displaced from their home country in the month since Russia declared war. "[Bloom]is a much better human than me in that capacity," she says of using her platform to shine a light on social issues. "He kind of has that hero vibe."
It's odd to move on to something as deliciously light as a collection of beach-inspired shoes adorned with starfish, banana, and seashell designs. But we quickly agree: there has to be a balance when things get dark. "I mean, the world has a lot of variety," Perry says. "So many things are happening, and some are good and some are bad. Some of them are fun, some are consumer-driven, and some are creative. That's what shoes from the Katy Perry collection are: it's a little piece of personality. And if there's anything the pop star knows how to do, especially when it comes to fashion, it's having fun. Here, she shares how she went from a traveling musician who got by reselling thrift store finds to a "real CEO boss female dog" — as well as her secret to sourcing top-notch vintage.
Why did you decide to become a full owner of KPC?
I was doing a joint venture, a real 50/50 with Global Brands Group. They helped me with manufacturing and distribution; I wanted to learn the trade. I've been in the music industry for over 15 years, but the fashion industry is a whole different animal. I can't just love clothes and expect to be successful – and I wanted to be successful. Unfortunately, they didn't get through the Covid-ness of it all, and just said to me, "Katy Perry collections can fade into obscurity or you can buy the brand back." And I was like, "Wow, this is gonna be expensive, and a big roll of the dice. And I'm gonna roll the dice, again, on my life, like I do. And I feel good because I'm become this real CEO bitch I want to be and talk about.
What was your style like when you were a teenager?
Well, I'm a little outgoing. I wanted to be seen, to always have a unique presentation, but my budget was always limited. When I started I was literally singing at farmers markets with my guitar case open and making highs of $20-40. I would take that and go to thrift stores, trying to find the most unique, vintage, cool, funky, weird, wacky looks and patterns. A 70s muumuu that I could re-cut, or a cardigan with pearl buttons—[a] mix I would like [use to] create an identity for myself. I was all about the personality pieces.
Do you have any particularly memorable finds?
When I first came to LA I went to thrift store The Council Shop and found these 80s ballet flats that [were shaped like] a Dalmatian dog. They had ears and a flapping tongue at the tip of the shoe, and they created so many conversations in my life. I was stopped at the bar, in the street. Every meeting I took in my late teens and twenties, everyone was like, "Where did you get…?" This was back when it was still hard to find such amazing personality pieces.
What do you think about wearing trendy pieces again?
Oh, well, that's what The RealReal is for, isn't it? [Laughs.]
Do you have an account?
We'll see.
Or you could join Depop.
That's what makes Depops and RealReals so great. The first ones for me were Crossroads and a store on Melrose called Wasteland. I was selling all these cool finds at thrift stores, which is how I earned my pocket money for the week in my mid-twenties. I give away so many clothes to my friends, and I'll probably end up [do the same] with my own daughter. So I'm not trying to hold everything back, but, yes, I have a parcel clothing. [Laughs.]
If you could take one thing from your closet right now, what would it be?
I'm not going to grab anything about the clothes. I will take jewelry, photos and pets. Everyone else I can look at a picture of. I'm not like Elizabeth Taylor – although I love her – but I like a little vintage piece [of jewelry]and I kinda like to tell stories.
Do you have any fashion regrets?
No, because I mean it [has all] represented me then and then. I've worn a lot of weird stuff, but they've always brought me joy. Would I wear it again? I mean, when I go out and go to the Met [Gala] or I wear a suit for an event, I don't really put it back on because he had that moment. Was everything A+? Well, I guess that's subjective. Some people love it, some people say "What the fuck?" and that's fine.
Was there anything you doubted wearing before it made so much noise?
Not really. But I will say anything that's not right doesn't feel right, and people can say that. I'm a big fan of couture because the truth is when you see all these ads with, say, Gap or Old Navy or some other affordable brand, they look really nice and expensive. This is largely due to the fact that the clothes fit this person's body well, and someone used a steamer. If you add a little TLC to any of your clothes, they can look 100 times better than on any medium.
What are you wearing right now, and why did you decide to wear it?
I'm wearing an oversized Citizens of Humanity denim utility denim jumpsuit I got when I was in Aspen, along with a hat and sandals. I'm doing in-between meetings with my daughter, so it's really a work day, I'm not trying to get out into the world and get attention. Usually, quite honestly, I'm in just normal Adidas tracksuits, streetwear or sportswear, because I have to do a lot of things.
What do you always keep in your bag?
My vitamins, my lip gloss, and a magazine so that when my brain burns out on my phone, I can reposition my head for a minute. The two that I have subscriptions to, that are really close to my heart, are The Economist and AD [Architectural Digest]. An aesthetic and global moment, you know?
Do you have a favorite pop culture fashion moment, something like Britney and Justin Timberlake matching in denim?
I tried to recreate that once with Versace for the MTV Awards, so of course I loved it. I love anyone with a bold look, with their own style. And whatever Cher wore in the '70s to one of those awards shows, the Bob Mackie, is still very, very iconic and still looks great to this day.
Have you started thinking about what you're going to wear for the next Met Gala?
I'm in [the] process, then vogue announced that the theme had a category within a category and it was like "Okay", and we pivoted. It's not as obvious, more a subtle nod to the theme. It doesn't always have to be like Halloween, although I like a very… kinda, when they said "camp," I was like, Got it, let's go!
Do you think anyone has been killing it, style-wise, lately?
Oh, my God, I don't even really pay attention to anyone but my daughter—she kill him. And what's her name, who's so hot, so cute, on that hotel TV show?
white lotus? Sidney Sweeney?
Love a Sydney Sweeney. She works it. And she's great Euphoria, of cours. And Zendaya! Oh my god, every time she steps on the carpet, it's an event.
Did you have a style icon growing up?
Chloë Sevigny has such an amazing presentation every time. Even her street style is super cool. When I was in my late teens, early twenties, I was just like, "Oh, my God, that's my favorite."
Are there any emerging designers that interest you?
Everyone loves LaQuan Smith right now, it's very obvious, but I've been in love with him for a few years. I just wore Windowsen Saturday Night Live and I thought that was really fun.
What are your favorite places to go shopping on a daily basis?
Fashion [Operandi]is my favorite, because it's kind of a mix of sophisticated and edgy. I love, like, Neiman's one-stop shop. I love H.Lorenzo, Amazon, Etsy. You should see my 1stDibs folders. It's a lot. It's ww-wild. I have Loris Azzaro dresses, 1990s agnès b., 1991 Yves Saint Laurent. I have Alaïa from the 90s, Todd Oldham, Yamamoto Kabuki from the 80s. Like boys. Christian Dior. 70s Gucci. Patrick Kelly! No one even remembers [him].
I feel like Patrick Kelly and Todd Oldham haven't had the Gaultier and Mugler renaissance they deserve.
Mmh. But they were more accessible. I'm looking, I'm looking… and Leonard Paris? Guy Laroche, oh my god! Thierry Mugler, vintage, and vintage Hermès. Issey Miyaki from the 80s. Christian Lacroix. Louis Verda. I mean I will Deep on 1stDibs. I have one whooooo atmosphere.