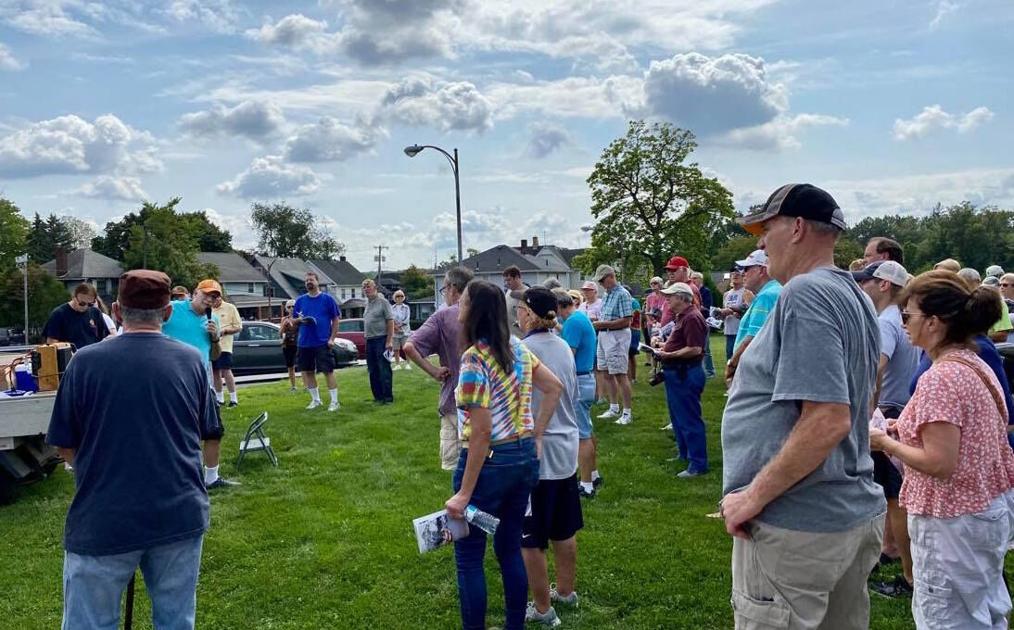 Strolling Through History: Walkers Uncover Sharon's East Side Past | New
Back then, Sharon's east side was teeming with commerce and elegance: family-owned shops, gas stations, and mansions dotted the landscape.
All of this, however, is only alive today in the eclectic history of the Upper East Side. On Saturday, around 150 people got a glimpse of East Hill's colorful past, during three walking tours, starting at 12:30 p.m., 2:30 p.m. and 4:30 p.m.
Walking tours, courtesy of the Sharon Historical Society and Beautification Commission, began on East State Street at Jefferson Avenue. There, Goldberg Plaza, built in 1927, included Kroger, a bakery, pharmacy, and delicatessen. It is now a parking lot and the Medical Arts Building.
The historic rides were all part of WaterFire Sharon, an event that drew thousands on a scorching hot day in mid-September.
Brian Kepple and John Zavinski, vice president of the historical society, led the walks, which focused on the areas between Jefferson Avenues and Case Avenues.
"Every few years they would vote to annex part of the land," said Kepple, a member of the Sharon Beautification Commission and the Sharon Historical Society.
A 39-page booklet describing each of the 29 stops on the tour, along with maps and photos, guided walkers. Zavinski, a layout and design editor at the Herald, did most of the legwork on the booklet.
Some of Sharon's structures have been moved to other locations, such as the mansion built in 1893 by Joseph Snedden, Zavinski said.
Initially it was on the northwest corner of Jefferson and the State, before moving up Jefferson to make way for a Mobil gas station.
A second story has been added; it is now known as the Jefferson Building, which includes law firms.
Opposite the Medical Arts Building is a wasteland, where St. Joseph's Church and its school and recreation center once stood – known as "Josephinum". The original building was completed in 1892.
The congregation grew rapidly and maintenance became difficult to maintain. Some families have moved to Notre-Dame de l'Hermitage church.
A new church for St. Joseph, consecrated in 1965, was built on Case Avenue in East State Street.
St. Joseph's Church was once seen as a potential location for the Catholic diocese, Zavinski heard. But the idea apparently faded away. The church is part of the Roman Catholic Diocese of Erie.
Kepple noted the small building at 797 E. State St. Built in 1949, it most recently housed Domino's Pizza. Before that it was Bello's Pizza and originally Ferd's Nut Shop run by Ferd Dalo.
Rite Aid, at State and Stambaugh Avenue, is where a movie theater was supposed to be built years ago, Zavinski said.
Before construction began on Rite Aid in 1996, the area included an office building, doctors' offices and a bar called "The Office". The place was also supposed to house the old Shenango Inn, which ended up on Kimberly Road.
The block where Walgreens is located included a grocery store, drugstore, barber shop and May's Shoe Repair, Kepple said.
Incorporated in 1841, Sharon grew through annexation.
The McGonigle Ambulance Service took over 960 E. State St., a Tudor Revival style structure built in 1930 and formerly a Pennzoil gas station.
At 982 E. State St. is the Fred Kloos and Son gas station, recently run by Bill Griffith, who passed away in 2020. There, an attendant still pumps your gasoline and washes your windshield, as was common before 1970. .
"It's the only full-service station in Sharon," Kepple said.
For more information, visit "Sharon Historical Society – Pennsylvania" on Facebook, sharonhistoricalsociety.com, or the organization's new headquarters, 110 E. State St.