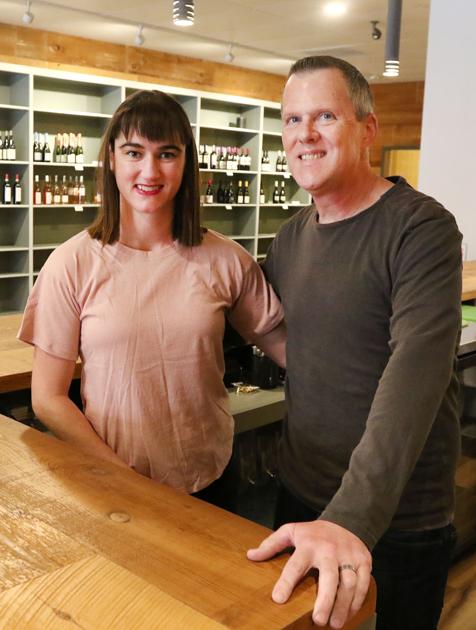 The Wine Destination in Downtown Roseburg Aims to Sell Quality Wines at Affordable Prices | Business
Sarah Everman and Keith Tidball want people to know they don't have to spend a fortune on a good bottle of wine, and as the owners of a new wine bar in downtown Roseburg they are aiming to prove it.
The Wine Destination, located on the site of the former Brown's Shoe Fit store in southeast Jackson Street, held its grand opening on Friday. The couple, who are married, said the new wine bar is the fulfillment of a long-held dream that took a lot of planning and a little old-fashioned elbow grease.
Everman grew up in southern Oregon and the couple were looking for an opportunity to return from Phoenix, where they lived and worked in the wine industry.
They wanted to live in a wine country, so they took a trip to the Applegate, Umpqua, and Willamette valleys and fell in love with Roseburg.
They moved here in 2019 and decided to find a location for their new business.
"We knew we wanted our store to be downtown and we wanted to own the space," Everman said. "We initially found another building, but this one fell into the water."
Gary and Janice Quist, who previously owned Roseburg Book & Stationary, also on Southeast Jackson Street in downtown Roseburg, helped with the search. Gary Quist had worked at the old Brown's Shoe Fit and knew the owner. He made the connection, and Everman and Tidball thought the space was perfect.
In 2020, they bought the building, which for 25 years had housed the shoe store.
The building itself dates back to 1890 and was at one time a Wells Fargo bank, the couple were told. They sold half of the building, which now houses Whiskey Creek Rustics, and set about renovating the other half for their wine bar.
The space at 526 SE Jackson St. covers a total of approximately 2,600 square feet. Tidball removed the plaster from the wall to expose the original brick, refurbished the wood floors, and even took advantage of the old wooden shelves in the shoe store.
"We love the history of the building, the fact that it has a basement for storing wine, has a private room for classes and is in a great location," Everman said. . "That being said, we've done a ton of renovations in the space. We reused the wood from the old Brown's shelves to make the bar top, accent wall and community table.
Unlike other tasting rooms in the region, which typically feature wine from a single producer, The Wine Destination will feature wines from the best wine producing countries in the world.
"We are a concept unique to Roseburg," said Everman.
There will be some premium wines for sale, but most will be in the $ 15 to $ 30 range, which Tidball says is the perfect spot for The Wine Destination.
"There are so many amazing wines in this price range," he said.
There will also be a handful of canned beer options for sale. Wine will be available for purchase by the bottle or by the glass. Wine can be bought to take away or to drink on site. There will be a corkage charge of $ 8 for the first bottle of wine consumed at the bar, although this charge will be waived during happy hour, 1 p.m. to 4 p.m.
There will be a limited menu including cold cuts, cheese platters, vegetable bowls, humus and desserts. Foods that need to be cooked will be prepared by Jackson Street Provisions, which recently opened at 424 SE Jackson St.
There will be a wine club with two levels of membership and monthly wine education classes and tastings in a private room located at the back of the wine bar. This space, which includes a 16-foot-long butcher's block table, an antique safe that has been turned into another table, and cork walls to help dampen the sound, will also be available to rent for guests. private meetings.
Between the great selection of affordable wines, the food on offer, the wine lessons and the general vibe, Everman and Tidball want The Wine Destination to be exactly that – a destination where people spend time.
And above all, find wines they like at affordable prices.
"No one in Oregon should pay too much for a bottle of wine," Everman said.
The Wine Destination will be open from Wednesday to Saturday from 1 p.m. to 7 p.m.
Scott Carroll can be reached at [email protected] or 541-957-4204.
Or follow him on Twitter @ scottcarroll15.