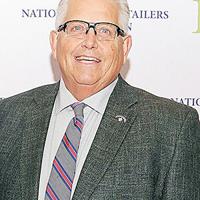 "Wonderful Ambassador" Randy Brown inducted into the Footwear Retail Hall of Fame | Local News
The National Shoe Retailers Association (NSRA) inducted Randy Brown into its Hall of Fame at its leadership conference in November in Tucson, Arizona.
Owner of Brown's Family Shoe Store in Washington, Brown entered the shoe industry in 1979, taking over the store from his parents, Ransome and Lois Brown, who started it in 1950. Brown has since retired into the business. Labadie's home, but not before expanding the business will include approximately 75 employees who work at several New Balance stores in St. Louis, Branson and Overland Park, Kansas.
NSRA President Phil Wright introduced Brown at the conference. "He has a clear vision for his business, with leadership skills fostered in the Boy Scouts and the Missouri State Highway Patrol," he said, referring to Brown's five-year stint as a trooper. State before embarking on the footwear industry.
Brown has also taught at East Central College and Oklahoma State University in Okmulgee and served as president of the Washington Area and Downtown Washington Chamber of Commerce Inc.
A member of the NSRA since 1982, Brown served 20 years on the board of directors and was elected president in 2004. Ten years later, in 2014, Brown was named the organization's Retailer of the Year.
The NSRA Hall of Fame was launched in 2012 to celebrate people who have made a significant impact on the footwear industry. According to the NSRA website, inductees "are honored for a combination of traits," including leadership in retail, personal and professional integrity, exceptional insight, service to their communities, participation in charitable activities and overall service to the NSRA. Since its inception, 23 people have been named to the Hall, including the 2021 class. Brown was inducted into the Hall of Fame along with Bob Infantino, former CEO of The Rockport Group, based in New York.
Brown said he was surprised by the call giving him the honor, but that the trip to Tucson was "a lifetime experience not because of the price, # 1, but because we were able to bring everything. our family".
In a message to Brown, former NSRA chairman Chuck Schuyler said, "In my opinion, there is no one left who deserves this honor. You have respect for NSRA members, sponsors and the independent retail community. You have always been a wonderful ambassador for the NSRA and you represent member stores with integrity and dignity.
According to Missourian archives, Brown's Shoe Center has won the Gold Medal Service Award for Outstanding Customer Service by Footwear Insight magazine four times, last in 2018.
In addition to friendly customer service and quality footwear, the shoe store supports a variety of nonprofits and agencies including Franklin County CASA, Franklin County Area United Way, Washington Rotary Club, Four Rivers Area YMCA, Franklin County Humane Society and Five Acres Animal Shelter in St. Charles County.