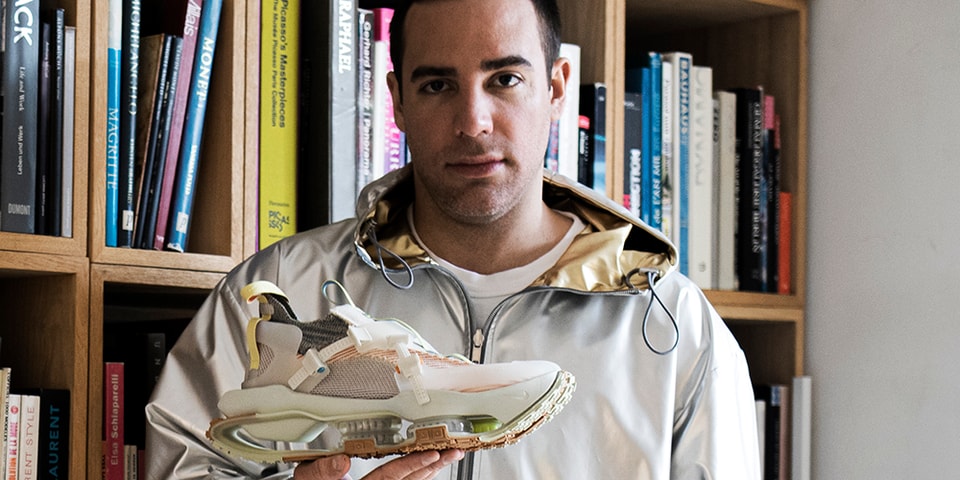 ZILVER's Pedro Lourenço on Nike's ISPA Road Warrior
Sustainability is a heavy word, changing meaning from designer to designer. But for Pedro Lourenço, the founder of ZILVER, it's more than just a slogan to make things from Earth-friendly materials and call it a day. It's a 360-degree approach and mindset. From the start of its design process, everything needs to be thought out consciously, so as not to stray from what it means to be truly sustainable – and even then, there is still work to be done.
Lourenço recognizes that his efforts are making a difference, but the fashion industry as a whole needs to do more. This philosophy can also be applied to the footwear industry, a place close to his heart despite moving away from classic sneakers, sneaker designers or tropes wearing sneakers.
For someone who has only a few pairs of shoes and spins them around for a few years, and as someone who has sketched shoes for most of their life but rarely makes a pair of them unless they are. not be for his collector's lookbooks, it is an interesting choice to choose the avant-garde and daring Nike ISPA Road Warrior in the spotlight unique companions. But his approach makes perfect sense: in terms of innovation, the Road Warrior is the ideal candidate.
In this issue of unique companions, HYPEBEAST speaks with Lourenço to learn more about how consciousness is incorporated into every aspect of his work, why he chose the Road Warrior and to learn more about his thoughts on how the sneaker industry can improve.
HYPEBEAST: What prompted you to become a fashion designer?
Pedro Lourenço: My parents were designers and I grew up in this industry. From an early age I was exposed to fashion, I traveled with my parents to watch shows in Paris, to see COMME des GARÇONS, Junya Watanabe, Helmut Lang when I was a kid… Usually kids want being an astronaut or a firefighter, I always knew I wanted to be a designer.
I made my first collection for my mother's second brand (it was almost like Prada or Miu Miu. It was a younger brand) when I was [a kid], it was so good because I was so young, I had no preconceptions – I was creating from a different point of view. When I was 19, I did my first show in Paris, so it's been since my childhood.
Sustainability is a big part of ZILVER. Why is this so important to you?
Growing up in the fashion industry in the '90s with parents who had been working since the' 80s, it's a completely unbearable state of mind of the way things were before. Making myself sustainable was an answer, a different value and a way of seeing fashion and business.
When I was 16, I came to Central Saint Martins, because I had met one of the teachers, and he told me that I should do a little project for them and show them what I was doing. It was a project focused on sustainability.
His students back then weren't thinking about that back then, so he played a joke on them by saying, "There's someone younger than you who's thinking about the future!" And at my salon in Paris, I was working with very traditional French leather – I went backwards I think – and over time I started to research more on sustainability. I started to wonder about how the fashion industry works, its use of resources, the clothing lifecycle, and that's how I started to think about ZILVER.
Why do you like to reinterpret classic designs?
When I was working in my teens and early twenties, you know there was this disconnect between the runway image and the commercial collection. It was my state of mind at the time. But you had commercial pressure, and I was doing experimental stuff, but I was also always interested in the classics. I wanted to create something that had the iconic [clothes] of a wardrobe, but reinterpreted, because I think that's the way we dress: we have sweaters, jeans, but my whole idea is to do something from the ground up, and make it sharp and futuristic, while having durability behind it.
Before getting to the shoe you have chosen, what is your general relationship with shoes?
Normally when I like a pair of shoes I get two or three identical pairs and that's all I'm going to wear for a few years. I don't change them too often and I keep a certain identity in the shoes I wear at one time.
Did you have a moment growing up that connected you to shoes?
When I was in school I used to sketch shoes when I was bored in class. For me, this is the simplest thing; the easiest thing to draw is a pair of shoes. When I worked for my mother's second brand, and when I had my own brand, I designed shoes.
I love to develop shoes, it's one of my passions.
And the one you want to spotlight is the Nike ISPA Road Warrior. Much like ZILVER, these also push the boundaries – is that what you chose them for?
I really wanted them and had seen them for six months… What interested me so much was the Nike department that developed them. All products under ISPA… It's dedicated to innovation and it's not about the commercial pursuit of things, it's also experimental and that's what made me fall in love.
I love that there's a knitted structure underneath, which is almost seamless, but then you have layers and crisp rubber lines on it, and then there's a Japanese style toe – the whole thing. harmony and composition are new, fresh and nothing like we've seen before.
We have presented this shoe in various forms before, and people are generally interested in its technical innovations. Do you appreciate technology or do you look at it from a personal designer perspective?
What connects me the most is that it comes from an area in a company like Nike that is so big, it's really spending time exploring new ideas. Today, with capitalism and the pressures, so many companies are making the same product because it does well, and don't leave time to explore new techniques and technologies.
I also love that it's really sci-fi, and that there aren't the obvious expectations of something sci-fi as we feel it now at the same time. I like the sharpness and angle of the lines. Reflective materials… futuristic buckles that make it closer to the foot. How sweet it is when you walk, I never felt that with a shoe.
I could see it worked well with ZILVER parts.
Every ZILVER look I put on with these makes sense. Sometimes I think to myself "it won't work with yellow", but it still works. It's like an insect, a beast of nature – because of the knitting you have these stripes with colors inside that look like the skin of an insect.
Is there a ZILVER designed commercial shoe on the cards?
For ZILVER, the boots would make a lot of sense. I have some ideas in mind but I am waiting for the right moment to launch it. Of course, I was concerned about that, and I think it would make sense to do some sort of partnership with Nike in the future, we would be very aligned. Nike is committed to promoting sustainability now, so I think we would have a synergy. Everything is in the right timing; we defined the look and our bestsellers, while experimenting with clothing and materials to make the ZILVER image clear.
In terms of sustainability, what do you think of the sneaker and fashion industry?
Listen. It is the result of the way the whole world has lived, of capitalism and colonialism. The previous generation – the awareness was there, the scientists were talking about it – but they didn't have enough knowledge to understand, this is something that we are under pressure [on] to change quickly. This is my commitment and what interests me: rethinking the way we do business in capitalism. I think this is a very important exercise, I think the fashion industry needs to rethink its materials and messages.
I often find archaic how much validation luxury fashion is and how old product values ​​are status symbols, and this is also unbearable – the pressure the market has created. [I think] we have to change mentalities. I think it's about changing the mindset behind business, why you're in business, why you make clothes, that's what makes a business sustainable or not.
There are people who are really committed to creating a sustainable business and products, but there is a lot of greenwashing and I think it's very dangerous. A change must come from the roots, not from the outside. It should happen internally and then come out.
If ZILVER were to be in the footwear industry, what would you bring and therefore change?
I would like to push [the ideas around] shoe construction, made from durable materials just like we do with clothing. It would be an evolution, taking classics and bringing a more pointed design, using materials of sustainable origin.
The whole mindset is more harmful, less aware of the materials that are used and it's about understanding all the materials you use, the decisions you make and how they are. [impact] the environment.